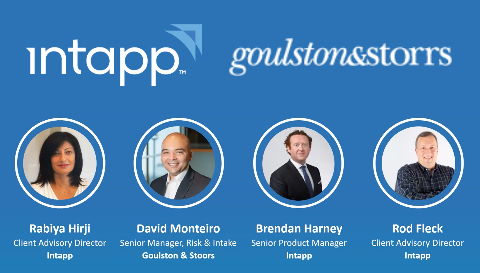 In this thirty day period&#8217s sponsor spotlight, Intapp is highlighting a recording of their the latest webinar on their newest innovation and results on customer ingestion, conflicts and more.
Event Description:

Join us to take a look at how companies effectively leverage OnePlace Risk & Compliance to totally examine new company, immediately onboard consumers, and simply watch associations throughout the shopper lifecycle.
During this webinar, you will listen to from our guest speaker and Intapp consumer, David Monteiro, Senior Manager, Chance and Consumption, Goulston and Storrs. Understand how his firm turned their threat and compliance management difficulties into a competitive benefit with OnePlace Possibility & Compliance remedies.
Of distinct note the conflicts and compliance nerds out there — [I don't know if Intapp wants me saying "nerds" on their sponsored post, but I'm saying it, with deep affection of course] — there&#8217s some in depth information and demonstrations of their Interactive Conflicts Report (ICR) feature and their latest enhancements to view lists and checking.
I&#8217m normally a stickler for buyer references and proof points. And this one provides, with Dave Monteiro from Goulston & Storrs sharing his tale. He studies:
They&#8217ve been making use of ICR for about 36 months
They have a 100% lawyer adoption amount
That&#8217s 200 lawyers
An average of 450 ICRs created a month
An common duration from generation of ICR to make any difference opening of 30-40 minutes
Obtain the Complete Movie Recording: Through this url